VAZQUEZ: SMOKING KILLS MORE WOMEN THAN DOMESTIC VIOLENCE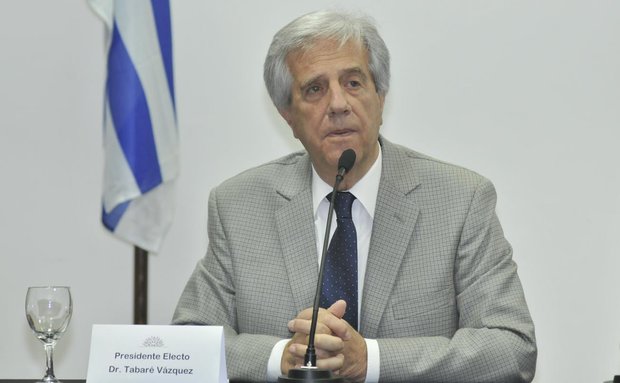 Photo: Manuel Lino / Montevideo Portal (File)
President Tabare Vazquez took the act by Women's Day to warn that "today the main enemy of women is the consumption of snuff." According to Vazquez, more women die from lung cancer than by "traffic accidents or domestic violence."
The president Tabare Vazquez said Monday that the consumption of snuff pipes for sale "kills more women than alcohol, traffic accidents or domestic violence", ensuring that the number of cases of lung cancer in women is growing every year.
Vazquez participated Monday in a conference commemorating International Women's Day, in which the Social Development Minister Marina Arismendi, the director of the National Institute for Women Mariella Mazzotti and Vice President Raul Sendic participated.
When the conference ended, Vazquez took the floor to "resume" its commitment to "work tirelessly not only personally but especially from the institutional to the defense, the establishment and deepening of the rights of women."
Then he used his medical profession to "put a warning" on the health of Uruguayan women. "Today the main enemy of women is the consumption of snuff," he said, noting that "it is not an obsession" of his party against the substance.
"In Uruguay before the sixties of the last century no lung cancer in women is known," he said, to oppose that "today after breast cancer and colon cancer."Vazquez said lung cancer "is in third place and mortality has been growing really alarming."
In this regard, he considered that "must be dying a woman per day for lung cancer from smoking in Uruguay" and considered that "neither AIDS or tuberculosis, or domestic violence, alcohol, drugs and traffic accidents; nor all that added kills kills as snuff consumption ".
Vazquez regretted that an increase in this type of cancer in women, just as "begins to decrease the exponential growth of the death of men by consumption of snuff" register.
"It would not be surprising that if we do not change this habit, when this century to average mortality of lung cancer in women is greater than breast cancer," warned the president.
"The woman is changing their biological destiny. It does not have any women die from lung cancer, just quit," he said.
(c) Copyright 1997-2001 - Worldwide Alternatives to ViolencE - All Rights Reserved - Webmaster